E finalmente ecco la mia prima Review!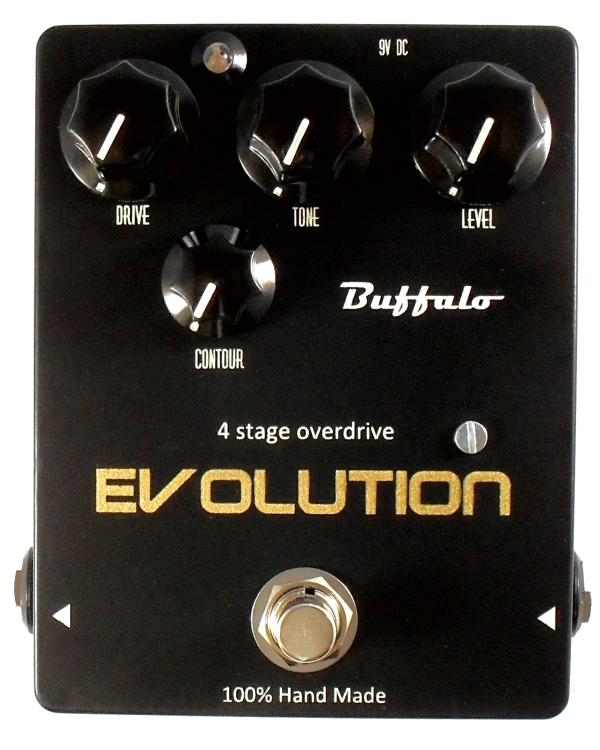 Per l'occasione vi parlerò di un pedale che sembra particolarmente apprezzato dai musicisti e ovviamente anche Gilmouriani, ma prima, che azienda è la Buffalo FX?
(Leggete velocemente la parola EFFECTS…e poi velocemente le lettere F (EF) e X (EX)..fico no? )
Si tratta di una persona, Steve, che produce una serie di pedali boutique, interamente a mano. Il laboratorio si trova in Francia. Per ordinare i suoi pedali si può contattare direttamente Steve, tramite il form di contatto. In alternativa credo ci sia un rivenditore in Norvegia per quanto riguarda l'Europa. Il resto è tutto oltreoceano.
Insomma se volete ordinare uno di questi pedali, vi conviene farlo direttamente da lui.
I tempi di produzione si aggirano intorno ai 30 giorni.
Veniamo ora all'Evolution. La mia fonte primaria è stata il buon Bjørn Riis di Gilmourish.com il quale ha fatto un elogio a questo stompbox, che iniziava affermando che si trattasse di un promettente clone del Cornish G2.
Ho letto svariate recensioni e sentito parecchie demo su youtube e mi hanno convinto abbastanza da decidere che dovevo averlo. Se si ordina direttamente sul sito, con la spedizione vi costerà 212€ (ma credetemi li vale tutti), che è possibile pagare tramite PayPal.
Io sono stato molto fortunato, perchè l'ho trovato usato su mercatinomusicale.com quindi ho risparmiato un po' di soldini (Ho beccato la vecchia grafica, ma è il succo che conta).
COME SI PRESENTA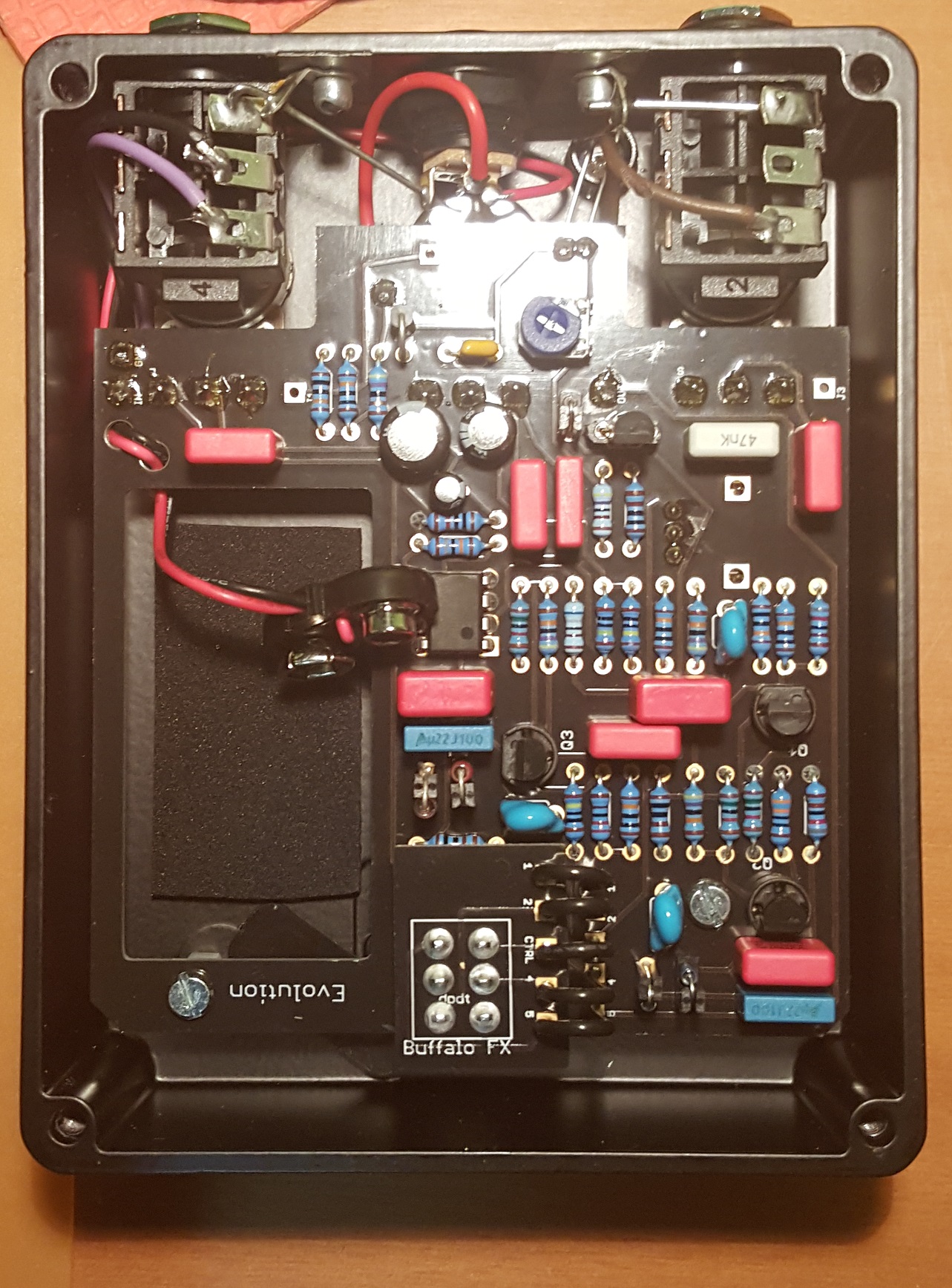 Da un aspetto esteriore lo chassis sembra di qualità, così come i potenziometri e gli input jack.
All'interno il circuito sembra confezionato con la massima cura e qualità. Il pin per la batteria ha persino una cover.
Ecco una foto dell'interno.
COME SUONA
Devo dire che è uno dei pedali più belli che ho mai provato, non esito a dire che se la gioca col Butler Tube Driver.
Il pregio più grande a mio avviso è la silenziosità: è veramente impeccabile anche spingendo un po' drive e volume (meglio non tenere entrambi al massimo e bilanciarli).
Come vedrete poi dalla demo che ho registrato, un altro pregio è la versatilità: grazie ai 4 controlli si può coprire un range che va da un mild-overdrive, a tube driver, a distorsore ricco, a muff, a fuzz.
I controlli con cui "giocare" sono Drive, Tone, Level e Contour. Quest'ultimo è un controllo che va a boostare le frequenze medie, molto utile per gli assoli.
Il suono comunque può essere trasparente o più corposo e caldo, quindi può adattarsi a qualsiasi genere dal blues al rock un po' spinto.
In definitiva le recensioni positive sono più che meritate.
ALIMENTAZIONE
È alimentato a 9V DC con il normale pin center-negative.
Può anche essere alimentato a batteria, che tuttavia (unico difetto a mio avviso) richiede di aprirlo, svitando le 4 viti della cover posteriore.
MISC
All'interno è presente un trimmer per regolare la luminosità del LED (indicato nelle istruzioni incluse col pedale).
Ecco comunque una demo delle sonorità Gilmouriane che ho raggiunto!
Per "Echoes", "On an island" e "On the turning away" ho usato il pickup al ponte, mentre per "Wearing the inside out" ho usato posizione centrale.
A breve recensione di Hartman Analog Flanger! Alla prossima!