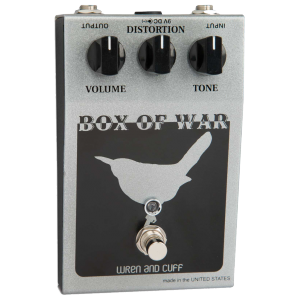 Back on the russian path! I had some issues with this purchase, I got one from Germany and it didn't work.. But in about 2 weeks I got back my money and I got another from The Effect Factory in France.
HOW IT LOOKS
Wren&Cuff pedals are incredible. The BoW has an awesome metal box, with graphics which remind the Civil War.
Inside it's as good as the Caprid.
HOW IT SOUNDS
It's a fantastic muff with smooth sound, even if, to be honest, I expected a bit more fatness.
Anyway I was able to nail DELICATE and PULSE tones as you will hear from the video below.
POWER
It has 9V DC center-negative plug (Boss type).
It has also the battery plug, but it's reachable by opening it (4 screws).
SETTINGS
I made my own settings, and I got a really good sound, but you may notice it's brighter than Gilmour's tone on PULSE,
that's because I keep HI and LOW at the same level on the Tube Driver.
See the image below this one, to see what settings Gilmour used for PULSE live. Also remember that the Chandler Tube Driver had a 12AU7 tube inside, while the BK Butler usually has a 12AX7, which gives more gain
I replaced the valve with a 12AU7 in my Tube Driver.
DEMO
For the demo I used the SM-57 + Scarlett Focusrite 2i2